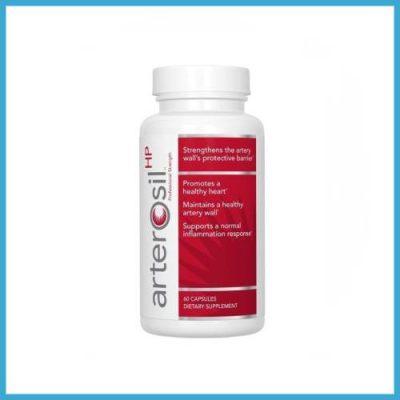 Arterosil is the ONLY product clinically proven to rebuild the protective inner lining of your arteries. It is known as a master supplement because it provides such a comprehensive list of benefits throughout the whole body. Its effect can help fortify your heart, brain, muscles, skin complexion, and even sexual performance.
The team at the Happy Hormone Cottage wants to help you protect your health by providing great products and making information accessible to everyone. Artery health might not be glamorous, but it is undoubtedly important in so many ways! Take the first step towards better health and longevity by scheduling an appointment with our team! During our initial consultation, we can authorize the sale of a range of incredible nutraceutical products like Arterosil, to help fortify your health.
Click here to view this product in the HHC online store!
Arterosil Ingredients
Arterosil contains Rhamnan Sulfate, a specialized sulfated polysaccharide derived from the green seaweed Monostroma nitidum. This ingredient is a key component for arterial health, because it is a glycocalyx regenerating compound (GRC). It also has been reported to possess anticoagulant and antithrombotic activity, two other highly important benefits.
How Arterosil Helps Protect Artery Health?
The Rhamnan Sulfate found in Arterosil can help by regenerating endothelial glycocalyx. Let us explain; this is an incredibly thin lining on the inside of every blood vessel that helps protect the arteries. It functions the same way non-stick frying pans work – it works great when the lining is intact, but as it wears away, more and more material will begin to build up and stick to the unprotected surfaces.
By fortifying this protective layer, less obstructive material accumulates in the arteries, keeping them clear, allowing blood to flow uninhibited, and reducing your risk of clotting. This arterial protective layer is most likely to be compromised by eating high sugar meals, during periods of stress or sickness, or decline brought on naturally by age.
The Truth About Cholesterol
Cholesterol only becomes problematic when it starts to stick to the walls of your arteries. However, high cholesterol diseases are serious and can have a dramatic impact on your health and wellbeing. Conditions such as:
High blood pressure

Stroke

Peripheral Artery Disease (PAD)

Type 2 Diabetes
What Can You Do About It?
Reduce the amount of high-sugar foods you eat

Maintain a healthy fitness routine

Quit or stop yourself from smoking

Use Arterosil to protect your arteries
Click here to view this product in the HHC online store!
Heart Health Nutraceuticals Available Online and in Centerville, Ohio
Healthy arteries are the key to a healthy heart, brain, strong muscles, and youthful-looking skin. Taking care of your heart and arteries can be one of the best things you can do for longevity. A healthy heart will keep your body and brain functioning at their best! If you have questions about Arterosil or any of the products offered in our online store, reach out to the team at the Happy Hormone Cottage for more information today!
Call (513)449-2192 to speak with a member of our team or schedule a consultation online today!